There are definite advantages of living in a country that has few political connections and even less political prowess. The stress to win is not as felt as a nation as it is in other countries.
Don't get me wrong, I'm sure our Olympic team has it's pride and wants to win as much as any other Olympian and I would be proud for them if they did win.



What's that, you say? You didn't even know we had a team?
I have included a bit of trivia for your further amusement.
The word "mogul" comes from the Austrian word "mugel," which means "small hill" or "mound."
The men's 2006 gold medal winner, Russian Yevgeny Plushenko, is the first skater in history to successfully land a quad-triple-triple jump combination in competition. Canadian Kevin Reynolds, 17, achieved the feat in 2008.
Curling is one of four winter Olympic sports contested indoors. The other three are hockey, figure skating, and speed skating.
German luge master Georg Hackl is the only athlete to medal in the same event in five straight games.
Nordic combined is one of two current Olympic Winter Games events in which the United States has never won a medal. (Biathlon is the other.) US won a silver medal this week!
According to the National Sporting Goods Association, U.S. consumers spent $309 million on snowboarding equipment in 2008. That's more than hockey and football equipment combined ($249 million).
American Jennison Heaton won the first skeleton gold medal in 1928, beating his brother John, who took the silver, by one second. John Heaton, at age 39, went on to win the silver again in 1948, finishing second to Italy's Nino Bibbia. American Jim Shea, Jr., won the men's gold in the 2002 return of the sport to the Olympics. The 2002 Salt Lake City Games also witnessed the debut of women's skeleton.
Ice hockey made its Olympic debut at the 1920 Summer Olympics in Antwerp, Belgium. The first Winter Olympics didn't take place until 1924.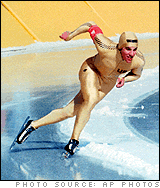 At the 2006 Turin Olympics, American Shani Davis became the first African-American athlete to win gold in an individual event, the 1,000 m. He also took home silver in the 1,500 m event. Davis is the tallest American speed skater, standing at 6'2" tall.
American skier Lindsey Vonn was awarded a cow by local dairy farmers for her World Cup win in Val D'Isere, France, in 2005. She had a choice between the cow or an additional $1,200 in prize money. She went with the cow.
The first known biathlon competition took place between two Norwegian guard companies in 1767.
It's been 22 years since the Jamaican bobsled team made its debut at the Olympics.
The oldest man to receive a Winter Olympics medal is 83-year-old Anders Haugen. The Norwegian-American actually received his ski jump bronze medal 50 years after he competed in 1924 when a scoring error was discovered in 1974.
The Shea Family of Lake Placid, New York, is the first to produce three generations of Olympians. Father Jack, 91, was a double-gold medalist in speed skating, son Jim, Sr., was a U.S. ski team member at the 1964 Innsbruck Games , and in 2002 grandson Jim, Jr., won a gold medal in skeleton.
Only two countries south of the equator have ever won medals at the Olympic Winter Games—Australia and New Zealand.
Legends Eric Heiden and Dan Jansen, as well as current stars Chris Witty and Casey FitzRandolph, are from the same U.S. state, Wisconsin.
Norway has won more gold medals at the Winter Games than any other country.
Stolen from infoplease.com